MINERAL HOUSE MEDIA is an online curatorial collective founded in 2017 by Brianna Bass, Claire Bloomfield, and Jayme Hartness. We operate a monthly digital residency via our instagram, and strive to enrich our practices through analysis, connection, and the elevation of contemporary artists in the Southeast and beyond.
BAD WATER & ANNA BUCKNER'S "LOVE LETTERS": REVIEW
KNOXVILLE, 2019. BAD WATER, one of Knoxville's newest galleries, opened during the Fall of 2018. It has wasted no time in advancing the Southeastern conversation of interesting, developed contemporary art. The gallery is run by Marla Sweitzer and Kelsey Conley, both artists and graduate students at the University of Tennessee. Sweitzer & Conley chose their home at 320 East Churchwell Avenue specifically for its large backyard shed, which they note is one of many viable potential venues in the area. They are inspired by other thriving art communities where artist-run galleries operate in abundance from sheds and apartments. They got to work renovating: sealing cracks, installing lights, ripping out shelves, and painting the walls...
JAIME BULL'S "RHINESTONE COWGIRLS" AT WHITESPEC
ATLANTA, 2019. Jaime Bull's solo exhibition Rhinestone Cowgirls opened at Atlanta's Whitespec (part of Whitespace Gallery) in mid-February. A lone painting welcomes visitors into the gallery, setting a gestural, forward atmosphere. A brilliant pink sky, bright green cacti, sparkly gold sand, and a sloppy coat of gloss melt into a dreamy, disjointed desert sunset. Viewers then turn the corner to a spectacle of shimmering girliness and grit…
"DESTILL" an Analysis of the International Minimalist Group Exhibition Presented by CNF.
NASHVILLE, 2018. In September of 2018, "Destill" opened in the Silo Room at Track one in Nashville, TN. The exhibition was a survey of contemporary non-objective and minimalist work by a fusion of Southeastern & European artists. Curated by John Tallman and presented by the Committee of new forms, the show included: Alex McClurg, Amanda Brazier, Arvid Boecker, Ashley Layendecker, Brian Edmonds, Brianna Bass, Clary Stolte, Eric Cagley, Hans Schmitt-Matzen, Henrieete Van t'Hoog, Iemke van Dijk, Jeffrey Courtland Jones, John Tallman, Kayla Rumpp, Matt Feyld, Mel DeWees, Richard Feaster, Suzan Shutan, and Werner Windisch. With its playful title, "Destill" references the Dutch movement, "De Stijl," which sought to find universality by distilling art to its most essential forms, decidedly removing art's responsibility to reference the material world, trace surges of emotion, or catalogue human narratives. The playful appropriation and alteration of this term suggests the urgency for similar values in the practices of today's artists…
"By Candle or by Bulb" an analysis of works by Heather Hartman, Eleanor Aldrich, & David Wolff.
"By Candle or By Bulb," an exhibition of paintings by Eleanor Aldrich, Heather Hartman, and David Wolff, opened in May at Fluorescent Gallery. By intentionally presenting works without titles or statement, the artists release the work to the viewer for a personal reading. An intimate connection is authorized by silence, as one embarks on the investigative process of experiencing new forms. The observer is an explorer in obscurity, equipped with only the visual context of other strange forms to determine the parameters of a body of work.
The Weight of Play: Amelia Briggs, Carrie Jobe, Douglas Degges. Review.
The Weight of Play, curated by Carri Jobe, opened in February of 2018 at Lipscomb University's Hutcheson Gallery. The show featured paintings by Carri Jobe, Amelia Briggs, and Douglas Degges. As a whole, the works effortlessly mirrored the show's theme: playfulness that belies its opposite, lightness that depends on heaviness to exist. The paintings were installed to enhance a dynamic range of size, with the largest dwarfing the smallest, the pieces in between sustaining each other in a lyrical flow.
Transversal: Brian Edmonds & Alex McClurg. Review.
"Transversal," Fluorescent Gallery's latest exhibition, features the abstract geometric paintings of Brian Edmonds and Alex Mcclurg. Expert organization by the show's curator, Ashley Layendecker, illuminates the points where the two painters converge and diverge in practice. Both painters leave a trail of evidence in each piece, revelations of process that speak clearly to one another, and yet show vastly different approaches to materiality, form, and visual language.
David Onri Anderson's "I'm So Glad I Got My Own (Natural High)" Review.
Seeing David Onri Anderson's show, I'm So Glad I Got My Own (Natural High) again, during Fluorescent Gallery's closing reception, was like reading a book for a second time. After processing the initial impact of Anderson's reverent and playful works, a second observation brought new realizations of detail and overall form. Through his small paintings, Anderson has developed a complex and unique visual language through which which he suspends homages to color, representations of dream images, and an intense relationship with materials.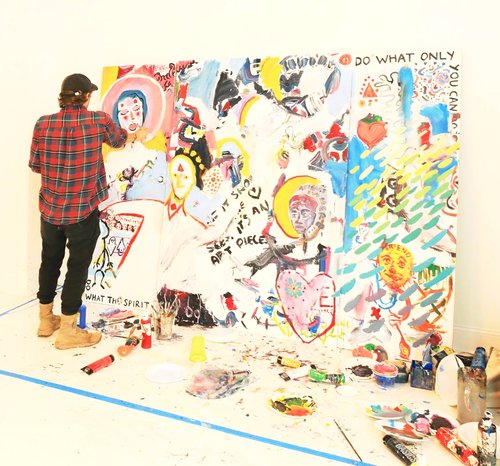 For a one-night event, OFFLINE might have been nestled into one of the best-suited exhibition spaces in Chattanooga. Love's Hall was between tenants during opening weekend, so OFFLINE spread out into three old whitewashed, high ceilinged rooms for a multidisciplinarian meditation on the impact of the internet in contemporary art. The show consisted of seven visual artists (Mercedes Llanos, Nate Giordano, Alecia Vera Buckles, Laura Little, Mamie Bivin, Brianna Bass, and Noah Kocher), incorporating DJ/designer Shoey Russell, and poetry performance by Ben Van Winkle. With an abundance of handmade artist's miniatures ("Swag"), music, booze, and energetic conversation aflow, attendees will be making space in their homes and minds for the new and important works exhibited.